PORTAGE, Mich.
, Oct. 2, 2017 /PRNewswire/ -- BASIC (Benefit Administrative Services International Corporation), the country's leading provider for third-party employee benefits administration, is pleased to announce the acquisition of COBRA Administration & Health Services, Inc.
Established in 1989 and headquartered in 
Portage, Michigan
, BASIC has grown into...
Read more
In 2016, the Department of Labor decided to radically raise the minimum salary for overtime consideration. But at the last minute a federal judge temporarily blocked it. Everyone waited to see what would happen: would there be a new ruling? Would the DOL appeal?
Read more
On August 29, 2017 the Federal Office of Management and Budget (OMB) halted the EEOC's proposed EEO-1 Report changes after a review of the data collection requirements pursuant to the Paperwork Reduction Act.  OMB issued an immediate stay of the EEOC's collection of pay and hours worked data from covered businesses, which are...
Read more
Discrimination in the workplace can be a very sensitive topic to bring up. We've all heard of various laws the government creates to keep places of business fair, and most of our jobs tell us about or make us watch videos about workplace equality when we first start. And that's just the beginning. To get...
Read more
Recent changes to the definition of "fiduciary" have grown to include those who offer guidance on investment options to health savings account ("HSA") and individual retirement account ("IRA") holders.With the new regulations, if an employer provides guidance to employees regarding their investment options, such as pushing one option over another, the employer can now be...
Read more
An employee's manager becoming involved in an FMLA situation can be liability for an  employer.Handling FMLA cases involves a set of complicated regulations that, if not followed properly, can lead to very serious consequences. When an employee's manager is involved in FMLA proceedings the employer dramatically increases the risk of being out of compliance. Direct...
Read more
 CIO Applications included BASIC on their 2017 list because of their extremely diverse portfolio of HR offerings.
CIO Applications magazine is a publication dedicated to offering comprehensive information on the latest technology trends. In their June issue they published their list of the top 25 HR technology solution providers of 2017....
Read more
Attention BASIC Commuter Clients: WEX Health payment cards are now an approved payment form for uberPOOL, and uberPOOL has been added as a valid terminal for transit purchases. As such, any WEX Health payment card that has a transit purse loaded with the terminal ID solution configured can use uberPOOL.UberPOOL enables commuters to save money...
Read more
As fulfilled and engaged as your employees may be with their jobs, if they have any issues with their paychecks, it won't take long for them to become frustrated. Some companies have dedicated payroll departments and others find it useful to outsource this process to one of many companies that specialize in payroll. How do...
Read more
A recent case in the U.S. District Court for the Northern District of Illinois saw a former employee sue Micron Industries Corporation and ManPowerGroup US Inc. for violations of the FMLA. The plaintiff claims his employer failed to inform him of his rights to a leave of absence provided under the FMLA, and that this...
Read more
Plans with more than 100 participants on the first day of the plan year must file a Form 5500 and associated schedules with the Department of Labor (DOL) each year for their health and welfare plans. 
The due date to file your IRS From 5500 is July 31 for calendar year plans. Read BASIC's White...
Read more
Healthcare companies are faced with some of the most complex and most difficult to optimize payroll and tax-related processes of all companies. The diversity of the workforce, the industry-specific overtime needs of these companies and many other difficulties, all call for special payroll management practices.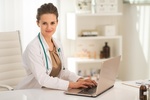 It's true that the basic...
Read more
The IRS has recently issued Revenue Procedure 2017-37, which provides 2018 HSA contribution and coverage limits. For 2017 HSA's, the limits have changed not just for contributions but for both self and family coverage as well.HSAs are a great way for employers and employees to control cost while still providing a rich benefits package. HSAs also...
Read more
Are You Having Payroll Problems?As an employer, nothing can be more frustrating.  Lack of expertise and poor customer service are the main reasons employers look to make a payroll provider change. Luckily for you, change doesn't have to come the first of the year. At BASIC, we pride ourselves on helping employers needing to replace...
Read more
Paid FMLA, STD, ADA, RTW. Perhaps you have heard these acronyms thrown around the HR world or maybe you deal with them yourself. Often times, if employers struggle with one, the others seem to lag not far behind. This is where BASIC comes in. We provide more than just FMLA administration. In...
Read more
On November 8, 2016, Arizona voters passed Proposition 206, the Fair Wages and Health Families Act (the "Act"). This Act established new minimum wage requirements in Arizona along with imposing new paid sick time requirements on employers.Increased Minimum WageThe Act increased Arizona's minimum wage, which was $8.05 in 2016. Any employer that was subject to...
Read more
In the world of HR, acronyms pervade. COBRA is just one of the many acronyms that employers need to be familiar with. COBRA stands for Consolidated Omnibus Budget Reconciliation Act of 1985 (COBRA). This act protects employees who have quit their jobs, lost their jobs, or had their hours reduced, from losing their health insurance...
Read more
BASIC is excited to announce a new option for our HSA Administration, HSA@AnyBank! When we say Any Bank we mean any bank. If an employer has 50 employees, they can EACH choose a different bank for their HSA Account. This could be a bank or financial institution where they already have an existing HSA Account,...
Read more
Form W-2/SSN Data Theft: Information for Businesses and Payroll Service ProvidersAs the Internal Revenue Service, the state tax agencies and the tax industry make progress combatting identity theft, cybercriminals need more data to impersonate real taxpayers and file fraudulent returns for refunds.Currently, a particularly dangerous email scam is circulating. Here's how it works: Cybercriminals use various spoofing techniques...
Read more
BASIC is proud to announce the new version release of our proprietary FMLA and Absence Management dashboard. With FMLA abuse and absenteeism on the rise, many employers are grasping for a solution that fits their unique needs but also helps to simplify the administrative burden and relieve the pressure off of their...
Read more
Although we live in a connected age when everyone can reach each other through emails, texts and various social media channels, the quality is just as important as the quantity. How can HR use technology, not just as an end in itself but to increase connections between staff and management? Fortunately, the SHRM Foundation, an...
Read more
Losing their jobs can be a big financial hit for employees, but losing health benefits can be catastrophic. But the U.S. government has passed the Consolidated Omnibus Budget Reconciliation Act, commonly called COBRA, which gives some terminated workers the right to temporarily – for 18 months – continue participating in their former employer's group health...
Read more
In December 2015, President Barack Obama signed an extension to the Work Opportunity Tax Credit, which helps match employers with qualifying candidates, such as veterans, and provides a tax incentive for continued employment. What do you need to know about WOTC and how it can affect you and your business? Here are some basics.
Read more
Employee assistance programs are worksite-based programs and resources designed to benefit both employers and employees. EAPs address productivity issues — job performance can be affected when employees have personal concerns. By squarely dealing with the prevention, identification and resolution of issues, EAPs can put workers' health at center stage for the good of both the...
Read more
1. Extra compensation must be carefully timed.
Incentivizing employees with bonuses is a great way to boost performance, and it's important that the bonus checks are distributed at the same time that payroll taxes are paid. Otherwise, you could be subject to a penalty. The same goes for overtime payments.
Read more
FMLA intermittent leave can be quite the challenge for HR professionals and business owners. It is not only difficult to track, but it can also cause administrative headaches when trying to combat abuse. Employers are walking a fine line because they may suspect an employee is abusing FMLA intermittent leave but they can also get...
Read more
On May 17, 2016, the Equal Employment Opportunity Commission (EEOC) issued final wellness plan regulations informing employers how their wellness programs can comply with the Americans with Disabilities Act (ADA) and the Genetic Information Nondiscrimination Act (GINA).Employers who are subject to the ADA and offer wellness programs that collect employee health information are required to...
Read more